Studio Setup
Jump to Physical | Lighting | Camera
The basic shot for Bruce's Short is a Body shot against a saturated white background. This is made slightly more difficult than usual because Bruce will usually be wearing a white lab coat that needs to be correctly exposed.
The studio should be set up for a 3/4 shot with an infinite white background and at least 2 stops of over-exposure on the background to allow for Bruce wearing a white lab coat. This can be achieved with a white background or with chroma-key.
A Teleprompter is needed with either a speed control or someone to edit the speed and spacing of the words because Bruce won't remember his lines.
Preferred shooting format is 1080p50 at around 100Mbps or better.
Audio can be mono or stereo.
You are aiming for crushed white background with the entire lab coat visible.
Something like this:
Physical Setup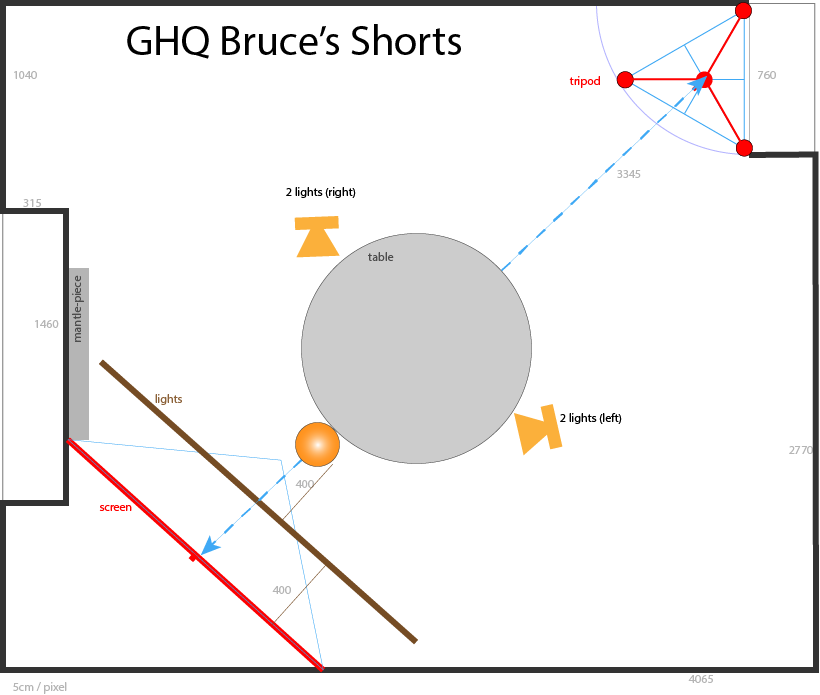 Different studios will be arrange slightly differently. The basic setup for the small home studio is given above.
Equipment:

Position screen in corner of mantle piece.
Position lighting rig parallel to screen at 400mm.
Position tripod in door and set to maximum height.
Position table on centre line with edge at 900mm from screen.
Position actor lights either side of table (one at max height, one at eyeline).

Lighting:

Adjust all lighting rig lights to max color temp & max brightness.
Adjust actor lights to just above minimum setting.

Vignetting:

Check viewfinder for black / dark corners - adjust camera / lights.

Exposure:

Turn on 95% zebra ensure background blown out but not lab coat.

Sound:

Ensure stereo being received.

Shot review:

Shoot 10s clip and load into premiere.
Lighting setup for GHQ
Set up lighting as previously stated

Turn off all lights on Bruce so that just the background lights remain.

Take a light meter reading of the background

Remember to take all your light readings at the same distance away from the subject each time in order to get an accurate result for comparison.
This should be about 100.

Take the second light meter reading

Turn off all background lights and turn on just those aimed at Bruce.
The second reading should be between 25-50 (lower enables easier edit).

Ensure the lighting is even on Bruce's face and jacket

Turn these lights down from max brightness, around halfway is best.
Turn on all lighting and check you're happy with the camera display.
Remember to turn off lights when not in use in order to conserve battery.
Basic setup for A7s2
The goal is for the b/g to be 2 stops over-exposed
Lens

85mm f1.8 (SEL85F18)
switch focus to MF
** Audio
Rode Film maker Rx - red jack - ??? dB
Rode Film maker Tx - Lavalier - ??? dB
Dials:

Movie mode
+/- 0 exposure
AF/MF
Connect Power & micro-HDMI
Menu > Camera > 7 > Manual mode > Movie/HFR > Manual Movie
If camera turned on in PAL mode then change to NTSC

Menu > Toolbox > 3 > NTSC mode
Camera reboots - you may need to format the memory card

** Menu**

1 Camera

Image Size L:10M
Aspect Ratio 16:9
Quality Fine
RAW File Type Compressed
Panorama: Size -
Panorama: Direction -

2 Camera

File Format XAVC S HD
Record Setting 24p 50M
Dual Video REC: Off
HFR Settings
Drive Mode Single Shooting
Bracket Settings > Self Timer During Brkt Off
Bracket Settings > Bracket Order 0 > - > +

3 Camera

Flash mode Flash Off
Flash Comp 0
Red Eye Reduction Off

*Focus Mode Manual Focus

4 Camera

Focus Settings
AF Illuminator Auto
Exposure Comp 0
Exposure Step 0.3EV
ISO 500
ISO Auto Min SS Standard

5 Camera

Metering Mode Center
White Balance Auto
DRO/Auto HDR Off ``
Creative Style Vivid
Picture Effect Off
Picture Profile Off
Black Level 0

6 Camera

Zoom -
Focus Magnifier ``
Long Exposure NR Off
High ISO NR Normal
Center Lock-on AF Off
Smile/Face Detect Off

7 Camera

Soft Skin Effect Off
Auto Obj FramingOff
Auto Mode -
Scene Selection -
Movie/HFR Manual Exposure

8 Camera

Steady Shot Off
Steady Shot Settings -
Colour Space sRGB
Auto Slow Shutter Off
Audio Recording On
Audio Rec Level 11

9 Camera

Audio Out Timing Live
Wind Noise Reduct Off
Memory Recall
Memory > save to M1

1 Cog

Zebra 95
MF Assist On
Focus Magnif Time No Limit
Grid Lines Rule of 3rds
Marker Display On
Marker settings

Center On
Aspect Off
Safety Zone 80%
Guideframe On

2 Cog

Audio Level Display On
Auto Review 2s
Disp Button Monitor - All On
Peaking Level High
Peaking Color Yellow
Exposure Ste Guide On

3 Cog
Live View Display Setting Effect On
AF Area Auto Clear Off
Pre-AF On
Zoom Setting Optical Zoom Only
Finder / Monitor Auto
HDR setup for A7s2
Put into Manual mode, press menu and do an SLOG3 setup as follows:
Ensure that you over-expose by at least 2 stops!!
Camera icon Settings:
Camera

Image Size L:12M
Aspect Ratio **3:2`
Quality Fine
RAW File Type Compressed

Camera

File Format XAVC S HD
Record Setting 50p 50M

Camera
Camera

AF Illuminator Auto
ISO 500

Camera

Metering Mode Center
White Balance Auto
Picture Effect Off
Picture Profile PP8

Black Level 0
Gamma S-Log3
Black Gamma:
Knee:

Mode Auto
Auto Set

Max Point 100%
Sensitivity Mid

Colour Mode S-Gamut3.Cine
Saturation 0
Colour Phase 0
Colour Depth 0 for all components

Detail:

Level -7
Adjust:
Mode Auto
V/H Balance 0
B/W Balance Type3
Limit 7
Crispening 0
Hi-Light Detail 0

Camera

High ISO NR Normal
Center Lock-on AF On
Smile?Face Detect Off

Camera
Camera

Steady Shot Off
Colour Space sRGB
Auto Slow Shutter Off
Audio Recording On

Camera

Audio Out Timing Live
Wind Noise Reduct Off
Cog icon Settings:
Cog

Zebra 95
MF Assist On
Focus Magnif Time No Limit
Grid Lines Rule of 3rds
Marker Display On
Marker settings

Center On
Aspect Off
Safety Zone 80%
Guideframe On

Cog

Audio Level Display On
Auto Review 2s
Disp Button Monitor - All On
Peaking Level High
Peaking Color Yellow
Exposure Ste Guide On

Cog

Live View Display Setting Effect On
AF Area Auto Clear Off
Pre-AF On
Zoom Setting Optical Zoom Only
Finder / Monitor Auto